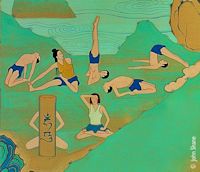 Yantra Yoga (Tib. Trul Khor - Magical Wheel) is one of the oldest systems of yoga in the world, with unbroken transmission lineages dating back as far as the 7th century AD. It forms a path complete in itself, whose goal is the experience of the state of the Natural State: Dzogchen. Chögyal Namkhai Norbu received the teachings of Yantra Yoga from his uncle, a renowned yogi, as well as other Tibetan teachers, and it is through Yantra Yoga that he started teaching Dzogchen in the West in 1970s.

Many of the positions and movement sequences of Yantra Yoga are similar to Hatha Yoga or Ashtanga. The primary aim of these sequences, however, is arriving particular breathing patterns, the position of the body or the stretch being of secondary or tertiary importance. These breathing sequences, which lead to specific types of retention of breath, allow the practitioner to work with their subtle energy.

To learn more about Yantra Yoga, please visit the official site.